Product Description
The Super Pro Street 9000 is the most AGGRESSIVE muffler we make for sound and competition!
Rev up the RPMs. Hear your engine roar.
Super Pro Streets have a smaller case size: 9" x 4" x 6" and fits most newer vehicles on the street today

Customers love the small case size and multiple configuration choices

For truck applications choose a single in and dual outlet, usually 2 1/2" or 3" inlet with a dual 2 1/4" or 2 1/2" outlet. Our 9326 or 9436 mufflers.

Recommended for use on newer vehicles with multiple CATs or none at all.
Super Pro Street 9000s have found their way into racing events with winning results!
Warning: Very aggressive muffler!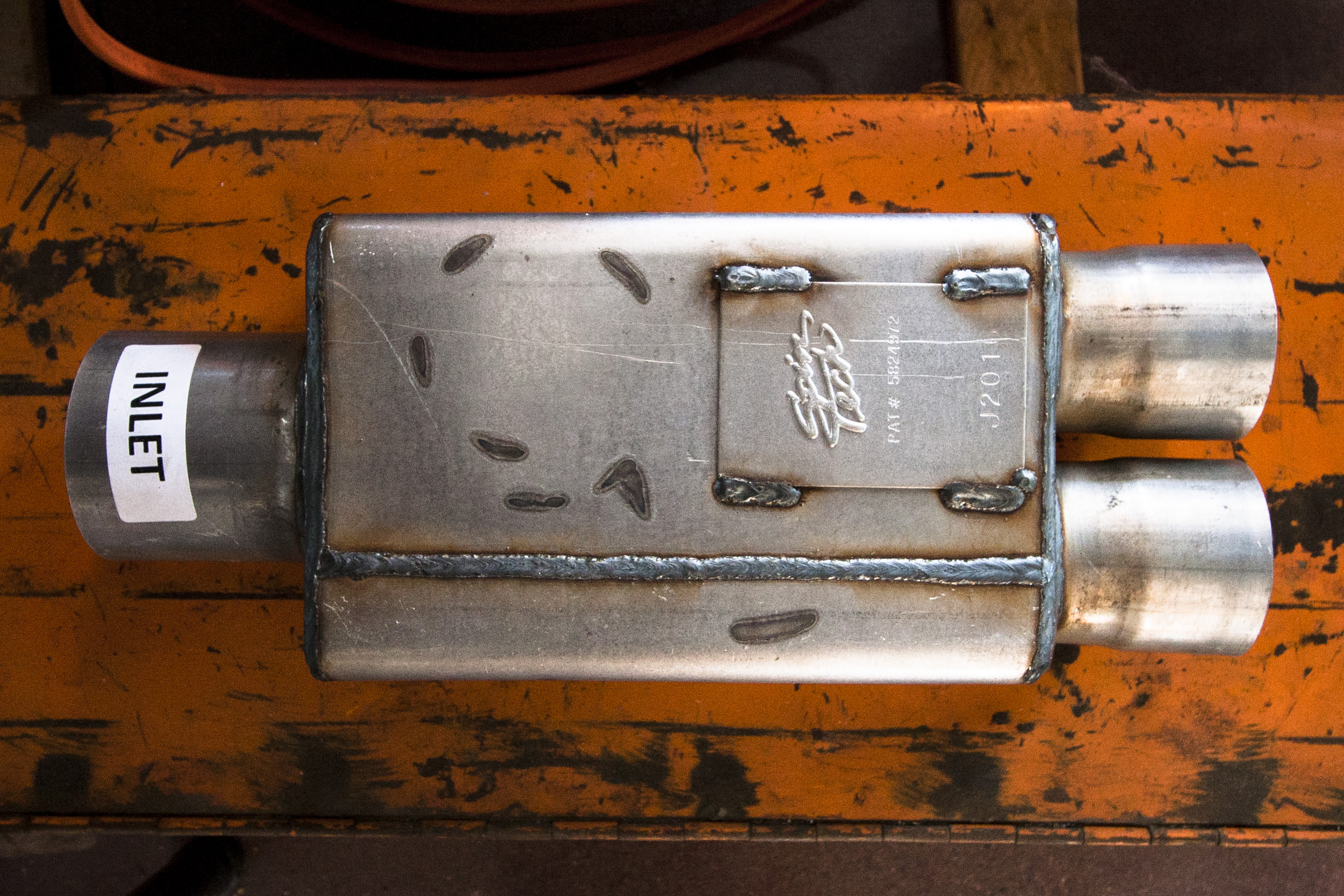 Product Reviews
9000s are the best sounding

I've had the 6000s in the past on my 5.7 Hemi. I had longtubes no cats and 3" true duals. Had a nice tone but didn't sound good when the rpms increased due to no crossover. I added an h pipe with the 9000s boy what a difference. Sounds deeper louder raspier just overall NASTY. I haven't heard my Hemi sound so good! I think I finally found an exhaust I can live with for the life of my vehicle. I'm sure the 6000s would have sounded good with an h pipe but I like loud and 9000s are so much better.

Just put these on my foxbody with a 408W. Sound awesome at idle. Very loud up top. Semi obnoxious, yet exactly what I wanted.

2019 Ram 1500 - Not much louder than stock muffler. Even tried with resonator removed.

Best sounding muffler for my 557ci Ford. Made the mistake of trying Flowmaster and it sounded horrible.

Spintech 9000 on a 1997 chevy 2500 5.7 vortec

This muffler was well worth the money, it has a violent sound to it when the motor is on load at higher rpms, and sounds like a solid clean loud V8 when at idle. If you want to check out a video of it on my old school small block Chevy truck, go to my YouTube account, mutanay77

Thanks for the fast shipping. I love the sound of my truck now. It sound like how it looks "Aggressive".

All around great product. Exactly what I was looking for in an aggressive sound

Best Muffler Ive ever used

I have used Spintech Super Pro Street 9000s on multiple cars. Most recently I put them on my 2018 Charger 392 Scat Pack and they sound amazing! As always. Great quality product. Fantastic sound. Deep rumble at idle and raspy scream at WOT. Love Spintech!!!!

Great piece for the stock car,

Great sound, great performance, SpinTech would look great on the rear quarter!! Wink wink

Absolutely fantastic sound! I have been a fan of another famous exhaust company for many years and then a friend told me about spin tech. I had my doubts but decided to give it a shot when I seen the prices were comparable to my previous favorite company. It blew my mind when I first fired up the hemi! If you have any doubts, take my word the spin tech 9000 is amazing. It is not for the faint of heart because it is fairly loud so if you don't want to hear the power you're beast has then don't get it but if you love the rumble then you will love this one!!!

cant wait to wake the neibor lol

Still working on my car so hopefully i can put some heat in them soon.

19999 f250 v10. Super street pro 9000

3in inlet middle, 3 in outlet middle. Great sound. If i had to guess the tone it would be a cross between a flowmaster and magnaflow. Very mild drone in the cabin when cruising. Awesome muffler