Product Description
The Super Pro Street 9000 is the most AGGRESSIVE muffler we make for sound and competition! Patented design converts sound energy into thunder. 100% Welded construction. Spin traps generate vortex flow effect. No packing to burn out. Scientifically calibrated Venturi scavenge gases for dramatic flow increase.
Super Pro Street 9000 have a
Smaller case size: 9" x 4" x 6"
Will fit most vehicles on the street today
Great sound with maximum horsepower gain
Customers love the small case size and multiple configuration choices. For truck applications choose a single in and dual outlet, usually 2 1/2" or 3" inlet with a dual 2 1/4" or 2 1/2" outlet. Our 9326 or 9436 mufflers. Recommended for use on newer vehicles with multiple CATs or none at all.
Super Pro Street 9000s have found their way into racing events with winning results!
Warning: Very aggressive muffler!
Rev up the RPMs. Hear your engine roar.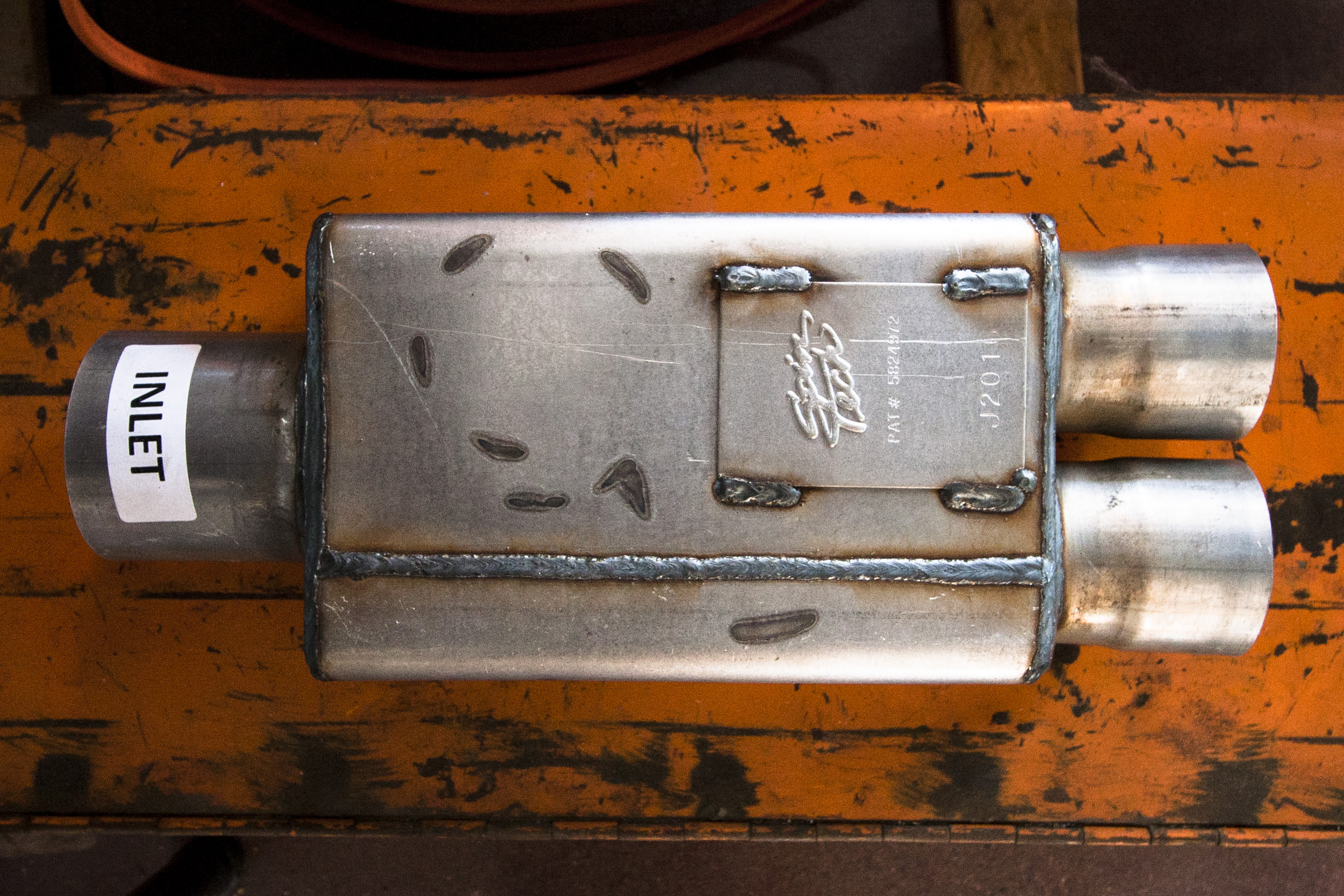 Product Reviews
Great sound. Exactly what I was looking for.

Great compact design, very well built muffler. These mufflers have a deep aggressive tone with virtually no drone on my big block chevelle. i will be using these mufflers on my other builds going forward.

installed 2 of the 9000 series and i have to say they are the best unique sounding mufflers ever. Love them way better then anything else ive heard.

Looks and sounds great. 4 real.

Was skeptical to be honest. But man I was impressed. Quality muffler.

SPINTECH PEFORMANCE MUFFLERS 9000 SUPER PRO STREET

Better-than-expected will definitely order more in the future for other vehicles. Thank you for high quality product

These things are awesome! I removed some Sportsman 3000s that were nearly 20 years old and I was worried that if I put the 9000s on they would be too loud. The exhaust system on my mild built 454 has 2" primary headers feeding dual 3" pipes with a x-pipe, super pro street 9000 mufflers, and tailpipes to the bumper. It has a very crisp fresh sound now! Thanks Spin Tech!!!

Order came in on time, easy install

This is exactly the sound I wanted. It makes my 5.7 Hemi growl. Deep sound without the crackle. I had it installed with the stock resonator removed. 3 inch pipe through out. Amazing sound!! Would definitely purchase again.

Hands down best mufflers I've ever had. My 1968 chevelle is turning heads left and right. People will literally stop to look at it. I've ran flowmasters my whole life. But... I've now made spintech my #1. Thanks Spintech.

Great quality

This isn't my first set of these, I bought 2 pair forc2 seperate builds and love them. However I ordered this last set on 6/8 and still have not received as of 6/18. Not fault of Spintech, but just keep in mind if time is an issue that protests are slowing delivery substantially..

Fantastic product makes my f250 sound mean!