Product Description
The Super Pro Street 9000 is the most AGGRESSIVE muffler we make for sound and competition!
Rev up the RPMs. Hear your engine roar.
Super Pro Streets have a smaller case size: 4" x 6" x 9" and fits most newer vehicles on the street today

Customers love the small case size and multiple configuration choices
Recommended for use on newer vehicles with multiple CATs or none at all.
Super Pro Street 9000s have found their way into racing events with winning results!
Warning: Very aggressive muffler!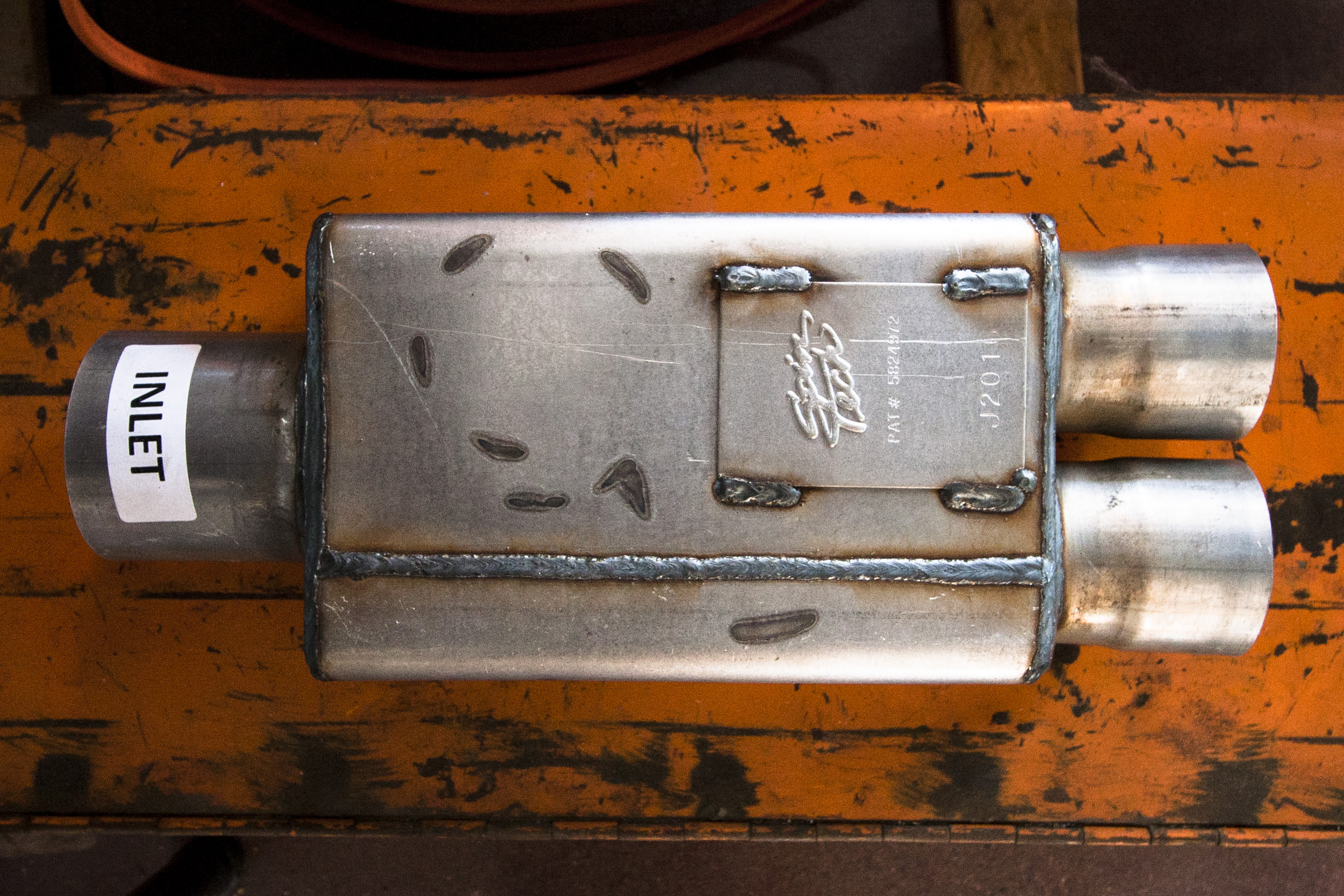 Custom Field
Product Reviews
Best Muffler Ive ever used

I have used Spintech Super Pro Street 9000s on multiple cars. Most recently I put them on my 2018 Charger 392 Scat Pack and they sound amazing! As always. Great quality product. Fantastic sound. Deep rumble at idle and raspy scream at WOT. Love Spintech!!!!

Great piece for the stock car,

Great sound, great performance, SpinTech would look great on the rear quarter!! Wink wink

Absolutely fantastic sound! I have been a fan of another famous exhaust company for many years and then a friend told me about spin tech. I had my doubts but decided to give it a shot when I seen the prices were comparable to my previous favorite company. It blew my mind when I first fired up the hemi! If you have any doubts, take my word the spin tech 9000 is amazing. It is not for the faint of heart because it is fairly loud so if you don't want to hear the power you're beast has then don't get it but if you love the rumble then you will love this one!!!

cant wait to wake the neibor lol

Still working on my car so hopefully i can put some heat in them soon.

19999 f250 v10. Super street pro 9000

3in inlet middle, 3 in outlet middle. Great sound. If i had to guess the tone it would be a cross between a flowmaster and magnaflow. Very mild drone in the cabin when cruising. Awesome muffler

High quality! Sounds better than I dreamed. Local muffler shop installed with no problem. Love the super pro street 9000!!!!!
BW

The shipping was great, received it within in 3 days of ordering. I went with a single in dual out and it sounds amazing! Highly recommend!

spintech mufflers pro street 9000 and 344sc

I purchased a pair of cat back pro street 9000 for my 06 gto . Put them on and it sounds really really good I have a set of headers on its so sweet. I purchased a 344 split case muffler for my iroc it has a 406 stroker in it that mfkr sound badd ass. talked to ron and he hooked me up with the rite combo. decided to put pro street 9000 on the iroc talked to ron again and he is very very helpful .Ron told me what I needed to make the the ps 9000 fit ,got the ps 9000 on 4-9-18 got to get the y/pipe then I can have it installed cant wait cause I know its gonna sound badd ass a mfkr. Best sounding mufflers I ever owned. hooker, flowmaster, magna flow I have owned before but they can not **** with spintech . spintech mufflers don't wear out or rattle like the rest of those shit mufflers. spintech is the best by far can not go wrong talk to ron he is the man very helpful thank you. Spintech for life

Gets everyone's attention

I replaced the whole exhaust system on my Jeep 4.0 with stainless headers and tubing, running straight into this mini muffler of terror. Fired it up, gave it a rev, and immediately noticed that this thing is no average muffler. Passing down an on-ramp, I feel like a stock car driver coming out from the pits. This muffler is good for introverts, because it eliminates all possiblity for any conversation with a passenger. The sound from this beast is like no other. Even though I have an inline 6, it makes it seem like a high RPM 350 V8.

Awesome product and sound

Outstanding quality.sounds evil when you hit the skinny pedal but fairly quite at idle. Very little interior drone . They put the Carven R to shame

Got my spin techs Friday and couldn't wait to get them on my truck! Installed an H pipe with the super pro street 9000 and they do not disappoint! A little bit quieter than open headers with a nice deep tone.....