Product Description
The Super Pro Street 9000 is the most AGGRESSIVE muffler we make for sound and competition! Patented design converts sound energy into thunder. 100% Welded construction. Spin traps generate vortex flow effect. No packing to burn out. Scientifically calibrated Venturi scavenge gases for dramatic flow increase.
Super Pro Street 9000 have a
Smaller case size: 9" x 4" x 6"
Will fit most vehicles on the street today
Great sound with maximum horsepower gain
Customers love the small case size and multiple configuration choices. For truck applications choose a single in and dual outlet, usually 2 1/2" or 3" inlet with a dual 2 1/4" or 2 1/2" outlet. Our 9326 or 9436 mufflers. Recommended for use on newer vehicles with multiple CATs or none at all.
Super Pro Street 9000s have found their way into racing events with winning results!
Warning: Very aggressive muffler!
Rev up the RPMs. Hear your engine roar.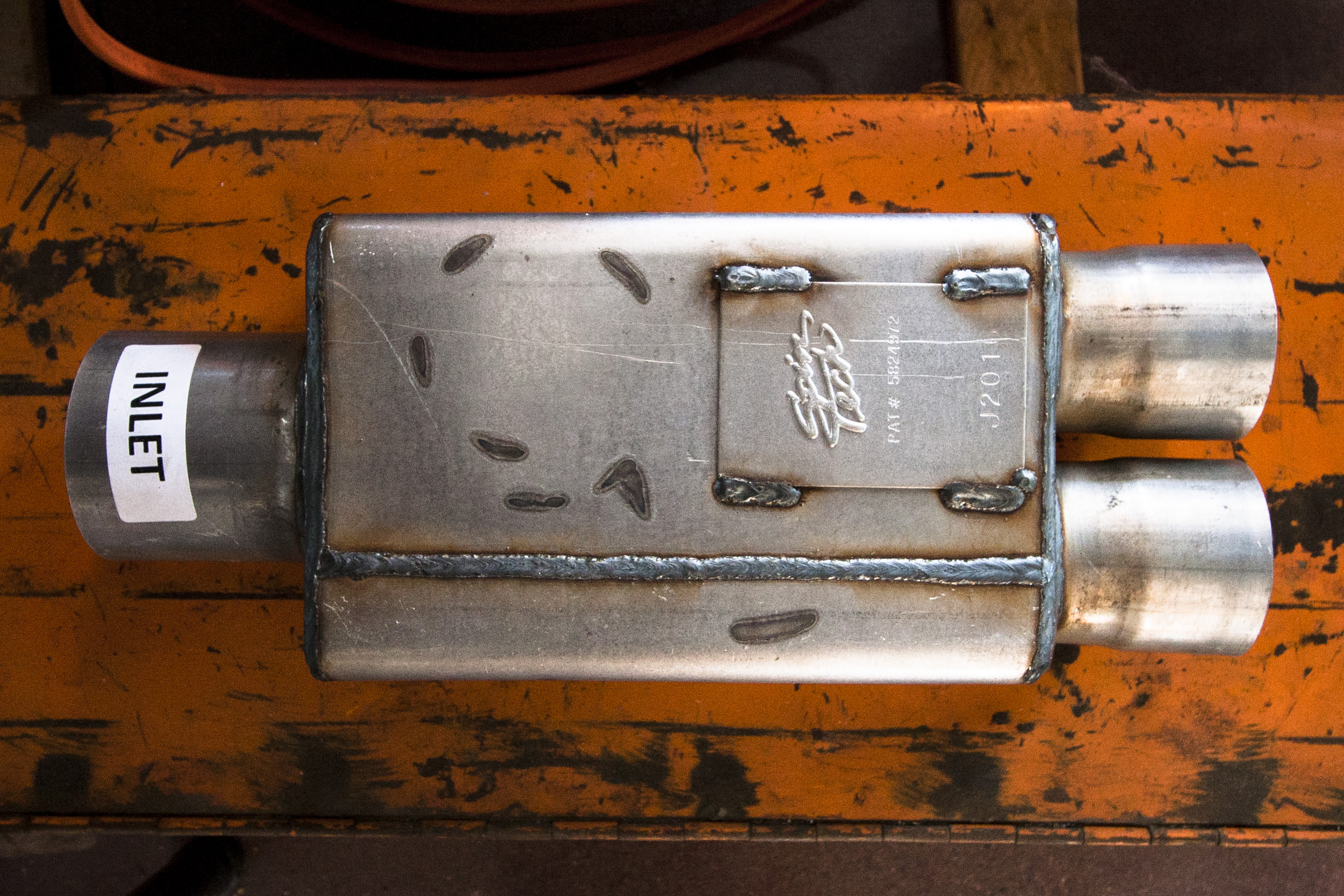 Product Reviews
I bought them because a friend mentioned them. He said they sound really good. Well I can't lie they sound real t a dozen muffler. Definitely worth it.

Got the 3" for my 05 GTO. Sounds like a T rex now! I receive compliments all the time.

Best sounding muffler on the 6.1 srt8 jeep

Spintech 9000 Super Pro Street

They sound really good. Way more aggressive than I thought with longtube headers. They will probably get me kicked out of the subdivision.

I just had them installed today they sound awesome

These mufflers are great and made of good quality love the sound on my foxbody if you want an aggressive sound and don't mind to be a little loud then these are for you. Well worth it in my opinion

Great sound. Exactly what I was looking for.

Great compact design, very well built muffler. These mufflers have a deep aggressive tone with virtually no drone on my big block chevelle. i will be using these mufflers on my other builds going forward.

installed 2 of the 9000 series and i have to say they are the best unique sounding mufflers ever. Love them way better then anything else ive heard.

Looks and sounds great. 4 real.

Was skeptical to be honest. But man I was impressed. Quality muffler.

SPINTECH PEFORMANCE MUFFLERS 9000 SUPER PRO STREET

Better-than-expected will definitely order more in the future for other vehicles. Thank you for high quality product

These things are awesome! I removed some Sportsman 3000s that were nearly 20 years old and I was worried that if I put the 9000s on they would be too loud. The exhaust system on my mild built 454 has 2" primary headers feeding dual 3" pipes with a x-pipe, super pro street 9000 mufflers, and tailpipes to the bumper. It has a very crisp fresh sound now! Thanks Spin Tech!!!