Product Description
The Super Pro Street 9000 is the most AGGRESSIVE muffler we make for sound and competition! Patented design converts sound energy into thunder. 100% Welded construction. Spin traps generate vortex flow effect. No packing to burn out. Scientifically calibrated Venturi scavenge gases for dramatic flow increase.
Super Pro Street 9000 have a
Smaller case size: 9" x 4" x 6"
Will fit most vehicles on the street today
Great sound with maximum horsepower gain
Customers love the small case size and multiple configuration choices. For truck applications choose a single in and dual outlet, usually 2 1/2" or 3" inlet with a dual 2 1/4" or 2 1/2" outlet. Our 9326 or 9436 mufflers. Recommended for use on newer vehicles with multiple CATs or none at all.
Super Pro Street 9000s have found their way into racing events with winning results!
Warning: Very aggressive muffler!
Rev up the RPMs. Hear your engine roar.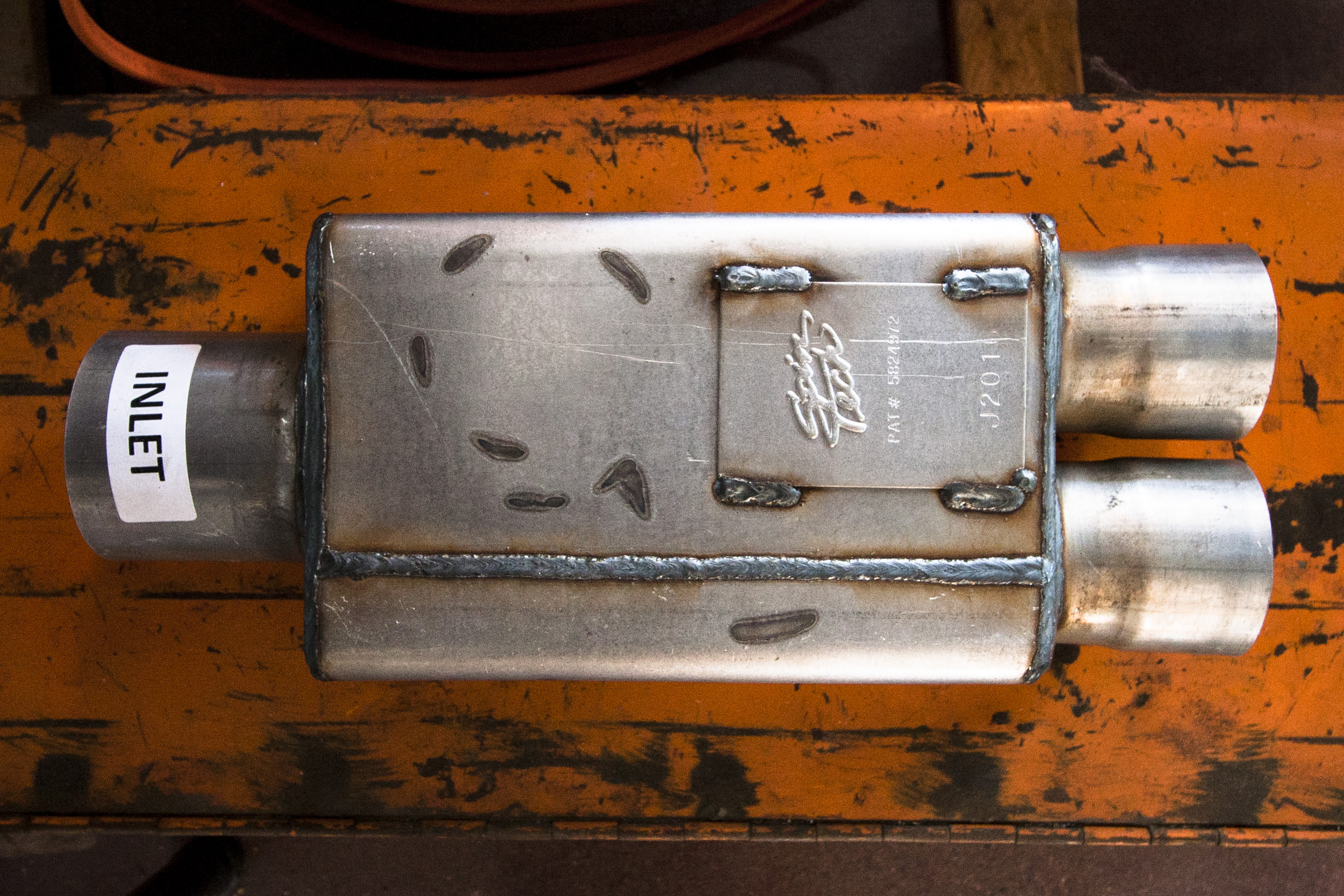 Product Reviews
Very good sound love it

This is my second set of Spintech mufflers and couldn't be happier. They are built solid and sound great. I've had Flowmasters and a lot of other name brand mufflers in the past but now I'm sticking with Spintech !

Great product, fast shipping, amazing sound

This is the aggressive muffler I have been looking for!

I wish I had tried this muffler a long time ago. I have wasted a lot of money and a lot of my time swapping mufflers out. This thing sounds very mean at idle and you can get on the gas a fair amount driving normal. When you want to lay on it though, this thing has some serious bark! I am running an ecotec3 5.3

I am extremely pleased. The car has had Stainless works, and flowmaster. Finally found something i like!! Thank you Spintech

Looks amazing really high quality sounds nice highly recommend!

The Spintech 9000 Super Pro Street has transformed my 2010 Dodge Ram into a mean sounding street beast. The difference between stock and this muffler is a deep rumble, with very little to no drone inside the cab at highway speeds. Well done, Spintech.

I put these on a mild sbf 302 with a ford E303 cam.im running long tube headers with a 3" off-road H pipe,spintech 9000 with 3" tail pipes.I couldn't ask for it to sound any better,not as loud as you would think but still really noticeable.

Deeepppp start sound and when you get on it it sounds absolutely amazing. Little drone in the higher rpm range but at cruzing speeds it good to go.

If you're having second thoughts about this muffler. This review should clear that up. My car sounds amazing now, better than anticipated. You won't be doing wrong going with SpinTech!!!

9000s are the best sounding

I've had the 6000s in the past on my 5.7 Hemi. I had longtubes no cats and 3" true duals. Had a nice tone but didn't sound good when the rpms increased due to no crossover. I added an h pipe with the 9000s boy what a difference. Sounds deeper louder raspier just overall NASTY. I haven't heard my Hemi sound so good! I think I finally found an exhaust I can live with for the life of my vehicle. I'm sure the 6000s would have sounded good with an h pipe but I like loud and 9000s are so much better.

Just put these on my foxbody with a 408W. Sound awesome at idle. Very loud up top. Semi obnoxious, yet exactly what I wanted.